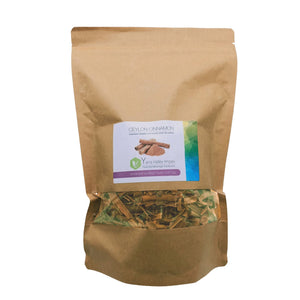 Natural Pure Ceylon Cinnamon Quillings - 250g
---
Standard Shipping 4 - 5 business days with Tracking
Express Shipping 3 - 5 business days with Tracking
---
Cinnamon is one of the oldest spices known to man, it was even mentioned in the Bible and was used in ancient Egypt. Cinnamon was so highly treasured that it was considered more precious than gold back in the day.
Cinnamon Sticks are made from the brown bark of the Cinnamon tree and the Ceylon Cinnamon has a light fragrant and a sweeter taste compared to Cassia Cinnamon.             
Our naturally grown Ceylon Cinnamon Quillings are cut pieces designed for cooking and packed in a beautiful air tight pack.
We believe our product stands out from the majority of products in the market since they are grown free of any chemicals or pesticides and non-irradiated, Non-GMO, and Gluten Free. 
Ingredients:
Natural Pure Ceylon Cinnamon from Sri Lanka
(Cinnamomum Zeylanicum)
Uses of Cinnamon
Spice up your cooking or decorate your favorite dish with Ceylon Cinnamon
Stirring and spicing up your a cup of Tea or Coffee with a Cinnamon stick
Boil Ceylon Cinnamon in water to enjoy an exotic, pure Cinnamon drink, with absolutely no sugar required
Add Ceylon Cinnamon to a bottle of Vodka & taste the natural refreshing taste of Cinnamon Vodka
Add a Cinnamon Stick to the cleaning liquid and fill your home with the natural fragrance of Ceylon Cinnamon
 Best before date
All our products have a long best before date. The exact dates would vary with the batch but the stock you receive will generally have a best before date of 1 - 2 years away. 
---
We Also Recommend
---