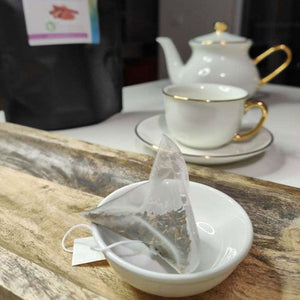 ELIXir - 50 Ceylon Cinnamon Tea Bags
---
Standard Shipping 4 - 5 business days with Tracking
Express Shipping 3 - 5 business days with Tracking
---
This Ceylon Cinnamon Tea bag has a delicate flavour & a scent of an age-old spice making this a soothing everyday drink for any avid tea drinker. This tea will refresh and put you in a wonderful mood for the rest of the day, leaving you with a pleasant aftertaste.
Do not use during pregnancy or lactation without the advice of a healthcare practitioner.
This Cinnamon tea bag has Premium Black tea mixed with Ceylon / True Cinnamon and is designed to give you many health benefits & a fascinating taste.
Brew: 1 pyramid teabag per 250ml cup, brew for three minutes in water at 100 degrees Celsius.
Additions: Non / best consumed as plain tea

Flavour: Traditional
Strength: Medium
Colour: Red
Ingredients: 50% High Grown Tea (Camelia Sinensis) & 50% true Cinnamon from Sri Lanka (Ceylon)
Best before date
All our products have a long best-before date. The exact dates would vary with the batch but the stock you receive will generally have a best before the date of 1 - 2 years away. 
---
We Also Recommend
---