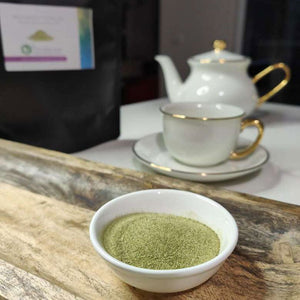 MORINGA POWDER 250g
---
Standard Shipping 4 - 5 business days with Tracking
Express Shipping 3 - 5 business days with Tracking
---
Moringa is known as the Miracle tree. This moringa leaves powder are sourced from Sri Lanka. They are loaded with antioxidants, vitamins & minerals, that will help clear your mind & boost your immunity & energy levels naturally.
Rich in Detoxifying properties.
Do not use during pregnancy or lactation w-out the advice of a healthcare practitioner.
How to Use; Mix one full teaspoon of moringa powder in hot water or hot coconut milk or hot smoothie with a hint of SALT. Can drink Daily.
Ingredients:  Moringa leave powder form Sri Lanka
Best before date
All our products have a long best before date. The exact dates would vary with the batch but the stock you receive will generally have a best before the date of 6 months - 1 year away. 
---
We Also Recommend
---