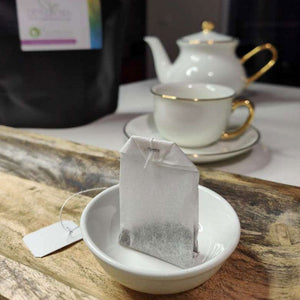 Pure Moringa Tea Superfood - 50 Tea Bags
---
Standard Shipping 4 - 5 business days with Tracking
Express Shipping 3 - 5 business days with Tracking
---
Our Moringa Tea bag contains 100% moringa leaves, a superfood sourced & packed from Sri Lanka. They are loaded with antioxidants, vitamins & minerals, that will help clear your mind & boost your immunity & energy levels naturally. Moringa is believed to be a Miracle superfood.
Moringa Tea is rich in detoxifying properties.
Do not use during pregnancy or lactation without the advice of a healthcare practitioner.
Brew: 1 teabag per 250ml cup, brew for three minutes in water at 100 degrees Celsius.                    
Additions: Non / only plain

Flavour: Traditional
Strength: Medium
Colour: light green
Ingredients:  Moringa leave powder form from Sri Lanka
Best before date
All our products have a long best-before date. The exact dates would vary with the batch but the stock you receive will generally have a best before the date of 1 - 2 years away. 
---
We Also Recommend
---