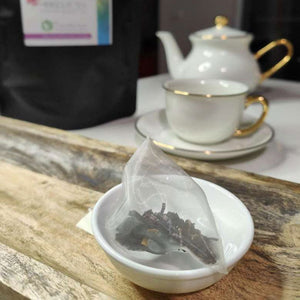 Pure Dried Hibiscus Tea - 50 Tea Bags
---
Standard Shipping 4 - 5 business days with Tracking
Express Shipping 3 - 5 business days with Tracking
---
This product contains pure dried hibiscus flowers and is truly a unique flavour that you would not find with any other product. Rosella Hibiscus Sabdariffa is a plant from egypt which brews in to a strong red liquor with an aroma like no other. It has a bold flavour with a strong tannin that lingers on. 
As a herbal tea product, pure dried hibiscus flowers are popular for health benefits such as lowering high blood presure, reducing cholesterol with its Antioxidant properties and other benefits as well. 
Brew:
1 tea bag per cup /mug, brew 3 minutes in water at 100 degrees Celsius, 
Additions: Non, best served plain
Flavour: Traditional, herbal 
Strength: Strong
Ingredients: Pure Hibisci Flores
Best before date
All our products have a long best before date. The exact dates would vary with the batch but the stock you receive will generally have a best before the date of 1 - 3 years away. 
---
We Also Recommend
---